We learned our ABCs when we were first learning out to dress ourselves, often in bright yellow rain boots, Bermuda shorts, and the most glittery top we could find. Now our style has changed, but the ABCs of fashion have remained iconic. Here are 26 items, A through Z that pretty much every gal should have in her closet.
The ABC's of Fashion: 26 Items Every Gal Should Own
1. All-Star Chuck Taylors
Comfortable and classic, those Chuck Taylor All-Star shoes are all-star for a reason. They're comfortable and cool for the chill girl on the go.
2. Boots
Every gal should own a pair of ankle boots and a pair of knee-high boots to cap off the perfect outfit.

3. Cardigan
A cardigan is practical, fashionable, and can be worn multiple ways with multiple outfits. Dress it up with a button-up shirt and slacks or dress it down with an old concert t-shirt and jeans.

4. Denim
Denim has been around since 1873 and though styles have changed, the material hasn't—denim has serious staying power! Make sure you own a good denim jacket and a few killer jeans that fit you like a glove. It's worth the extra money to splurge on jeans that flatter your body.
5. Eyelets
Eyelet fabric is a type of durable lace that has been around for centuries. It's elegant, fun, and a great staple piece in your wardrobe. You can find eyelet blouses and eyelet dresses perfect for any season.
6. Flannel
Whether you live in the mountains or in a big city, every gal should own a flannel shirt. It says stylish, slightly rugged, and sporty. Tie one around your waist for a fun accent to a cool outfit.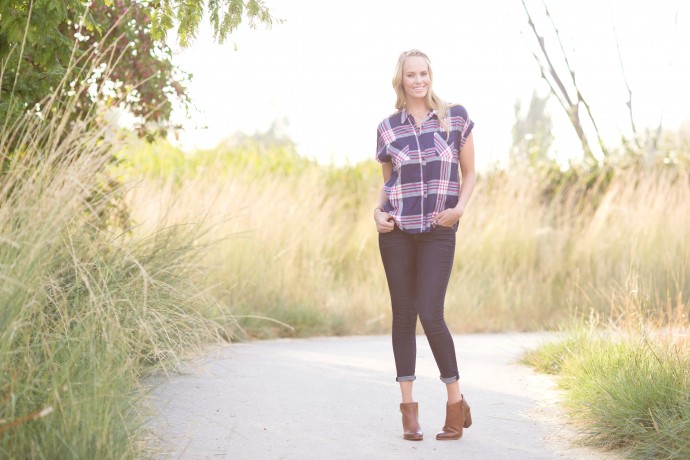 7. Glasses
Eye candy is an essential part of the trendy wardrobe and sunglasses come in all shapes and sizes. Make sure you own a good pair, whether they are aviators, cat-eye sunglasses, or oversized sunnies.

8. Handbag
Every woman deserves at least one designer handbag in her life. A little Kate Spade or Coach on your arm is like taking a good friend along with you.
9. Investment piece
Most of the time I jump for a good deal, but every once in a while, it is completely necessary to splurge. An investment piece might be that designer handbag or expensive piece of luggage. It might be a quality coat or tailored suit. Your investment piece is built to last a lifetime and you're not allowed to feel guilt about it.
10. Jumpsuit
Okay, I realize this one is verging on uncomfortable territory, but if you don't own a jumpsuit, it's time to try one!
11. Khakis
Khaki is another thing that will never go out of style. A pair of khaki slacks and shorts should be a staple in any closet.
12. Little black dress
So notable that it even has its own acronym, the LBD (or little black dress) is as iconic as Audrey Hepburn herself. This one isn't optional; every woman should own a LBD.

13. Moto jacket
A moto jacket is ultra cool even if you don't own a motorcycle. Moto jackets look amazing with skinny jeans or a dress.
14. Negligee
Although worn underneath the clothes, lingerie is an important part of any woman's wardrobe. The negligee is traditionally a silky night dress and every lady should own lingerie that she feels sexy in.
15. One-piece swimsuit
One-piece swimsuits are classic and flattering on every body type. It may take a few tries to find your perfect match, but when you do, it's a keeper.

16. Pencil skirt
Every woman's closet should have at least one pencil skirt in it. They are super flattering, showing off curves while still maintaining professionalism.
17. Quarter-length raglan
A raglan is a shirt with three-quarter-length sleeves and are usually sporty in nature. (Think a baseball shirt.) They are casual, fun, and let you show your athletic side.

18. Running shoes
Every single human being should own a pair of running shoes. They're great for the gym and for on-the-go. You can slip them on quickly and they're always in style.

19. Stiletos
There is nothing more style-astounding than the stiletto. Just think, one delicate shoe balancing over a hundred pounds on a twig-thin heel. It's super impressive. If you don't own a great stiletto, get to it!
20. T-shirt
When it comes to comfort, a t-shirt is where it's at. Every sista needs to have a handful in her closet. I recommend a plain white tee and a faded concert tee.
21. Underwire bra
Ladies, a good underwire bra is like a frosty can of Diet Coke: it lifts you up and keeps you going for hours.
22. Vintage
Vintage clothing items definitely have a place in any wardrobe. Ask grandma for that vintage leather belt in her closet or her vintage pea coat. Ever closet should have something vintage in it.

23. Wide-leg pants
Wide-leg pants will always fluctuate in popularity, but they'll never go out of style. First exploding on the fashion scene in the 1970s, wide leg pants are still just as cool today.
24. eXotic animal print
It may be a tiny stretch ('x' is a tough letter), but X stands for exotic animal print and the boldest fashionista knows that her closet wouldn't be complete without it. Leopard print, giraffe print, even zebra print can make a big statement when done right.
.
25. Yoga pants
Yoga pants have to make the list because they are basically the best invention known to man. A good yoga pant goes with you from the gym, to the store, and maybe even to bed with you that night. Basically, yoga pants can (and will) be worn all day long. Hey, blame their creators for making yoga pants so dang comfortable.
26. Zip hoodie
Finally, to end-cap my A-Z list, is the zip hoodie. Like it's BFF the yoga pant, the zip hoodie is ultra comfortable, with a fuzzy lining and convenient zipper. In fact, the two are often seen together. The zip hoodie may not be suitable for a night on the town, but it's the only thing you want to unwind to when you get home.