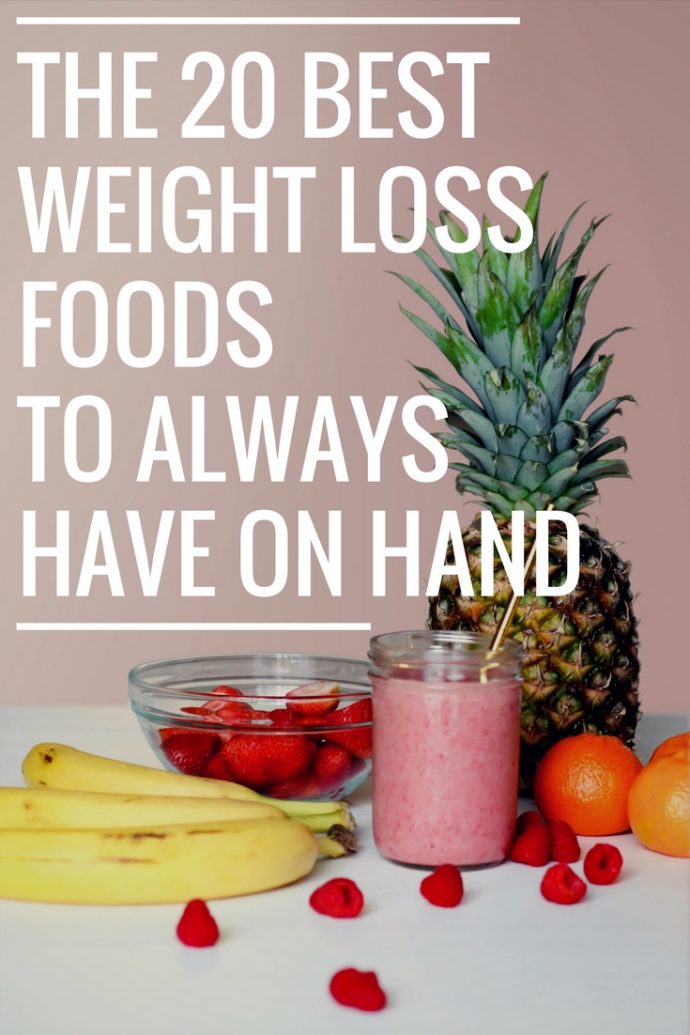 Have you ever got the bill for an item or service you purchased and had no idea it was going to cost that much? Your eyebrows raise as your stomach sinks and you think, "Crap, how did that happen?" That's exactly how I felt when I realized that I'd gained 60+ pounds with my third child. Whoops. How in the heck did that happen? Wait, I know exactly how it happened…too many cookies and junk food.
If you've joined my private Kylee's Korner Weight Loss group (Ask to join! It's a group of positive women who cheer each other on and it's really awesome!), you'll know I'm on a journey to shake some excess weight and the first step is to make some changes in what I've been eating. Sayonara cookies…here are the 20 best weight loss foods that I'm keeping stocked up on to fuel some serious weight loss.
The 20 Best Weight Loss Foods To Always Have on Hand
In alphabetical order, here are the most powerful foods to sizzle fat and boost metabolism!
1. Raw Almonds
If you are a crunchy snacker like I am, switch out your chips and crackers for raw almonds. They have a delicious, satisfying crunch and are a great source of mono and poly fats (the good kinds!). A 1/4 cup serving contains 160 calories, 4 grams of fiber, and 6 grams of protein with added benefits of calcium, folic acid, and iron.
2. Whole Apple
That old saying An apple a day keeps the doctor away continues to be on point. The big reason that apples are such a powerful health snack is that they contain pectin which naturally slows digestion and makes you feel full. A whole apple is only 95 calories with 4 grams of fiber. Eating an apple before a meal may help you consume less calories.
3. Avocados
Guacamole is basically a food group in my book and it's a good thing that avocados are a superfood. Slice a half of an avocado and put on toast or in a salad and you'll get 117 calories of super goodness. Studies have shown that avocados are linked to improved vision, good heart health, and a reduced risk of cancer.
4. Bananas
Bananas are a phenomenal weight loss food because they are loaded with resistant starch, a chain of glucose that isn't digested by the body—it just passes straight through. The resistant starch in bananas (the less ripe the better) reduce appetite and lower blood sugar levels in your body, supporting  healthy weight loss.
5. Beans
Magic beans made Jack's beanstalk grow, but they can have the opposite effect on your waistline. Legumes like black beans and chickpeas are a killer weight loss tool. They are a low-calorie food that is loaded with protein and fiber to keep you fuller longer. Keep them stocked in your pantry to put in salads, burritos, and homemade dips. (Heck, you can even hide them in brownies!)
6. Blueberries
Fruits with dark purple skins, like blueberries, are packed with antioxidants that combat free radicals and protect your body from toxins, sicknesses, and pollutants. Blueberries make a yummy snack and at just 80 calories for an entire cup, they are an amazing weight loss food. Put them in yogurt, breakfast cereal, oatmeal, smoothies, salads, or just nosh on them by the handful.
7. Chia Seeds
Chia seeds are tiny little soldiers that pack a punch. Don't underestimate them based on their size—chia seeds may be tiny, but one tablespoon gives you 4 grams of fiber and enough calcium, potassium, and magnesium to make a big difference in your health. Chia seeds are great in salad dressings, granola, and add a fun crunch to yogurt.
8. Coconut oil
Coconut oil was trending before that term was even invented and although it's been around for decades, coconut oil is making serious waves in today's health world. That's probably because it has less calories than other fat sources (like butter and vegetable oil) and is a source of healthy fats and medium-chain triglycerides which your body can easily digest and turn into energy, increasing metabolism.
9. Edamame
This little green soybean is so yummy, but don't let its cuteness fool you—it's packed with a blast of nutrition. One cup of edamame has 17 grams of protein (a 4-oz. chicken breast has 25 grams) and nearly every vitamin and mineral that your body needs: iron, magnesium, zinc, vitamin C, vitamin B-6, and calcium.
10. Eggs
One of the biggest secrets of body builders and sleek physiques is the egg. Eggs make a great weight loss food because they are protein-heavy (7 grams per egg) and support strong, lean muscles. Eggs also aid in brain development and memory enhancement.
11. Grapefruit
In the 1930s, Hollywood was raging over something they called the grapefruit diet. For breakfast, lunch, and dinner, celebrities ate nothing but grapefruits, hoping to zap fat. Although perhaps a bit zealous, the thought behind the diet was and is still spot on—grapefruits are an amazing natural superfood. Grapefruits are low in calories and are 90% water so they fill you up. A compound found in grapefruits can lower the body's insulin (the fat storage hormone) and can in fact help you lose weight.
12. Greek yogurt
Thick, creamy, and swimming with protein (17 grams per cup), greek yogurt is a very smart snack. Greek yogurt has three times the protein as an egg and can help you lose weight the healthy way. Substitute plain greek yogurt for sour cream, add it to smoothies and protein shakes, or add a teaspoon of agave to one cup of plain greek yogurt for a treat.
13. Grilled Chicken
If you're trying to lose weight, you'd best become BFFs with lean proteins. Research suggests that eating more protein can help a person lose fat and maintain muscle mass. It is recommended that a 150-pound person consume about 110 grams of daily protein to lose weight and maintain muscle. One grilled chicken breast has 25 grams of protein. Grill a big batch and keep it in the fridge or freezer to add to salads, wraps, or just to snack on.
14. Oatmeal
A bowl of oatmeal is not only satisfying and filling, but it's a huge metabolism booster too. Whole grain oats tote complex carbohydrates and fiber that keep you fueled longer than most foods. In just a half a cup, oats provide you with 9 important vitamins and minerals, 13 grams of protein, 8 grams of fiber, and only 303 calories making it a nutrient-dense, low calorie food.
15. Popcorn
With three kids, snacking is a big part of my daily life as we run to and fro. Popcorn (not the movie theatre kind) is a great healthy snack that satisfies crunchy cravings. Popcorn is part of the whole grain family and is low-cal for the amount of space it takes up. Three cups of air-popped popcorn has only 93 calories and about 4 grams of fiber.
16. Quinoa
Quinoa isn't just a superfood fad, it's a smart option when you want to lose weight. This grain is kind of like an edible seed that is small but mighty. Quinoa contains nearly every amino acid your body needs and can hide in nearly every dish. Try it in salads, stuffed peppers, pancakes, and even cookies!
17. Salmon
My favorite "splurge" item at a restaurant is always salmon. It is delicious, rich, and filled with monounsaturated and polyunsaturated fats that speed weight loss and support heart health. Salmon is a great protein source as well.
18. Sweet potatoes
If you have had to learn to love sweet potatoes, you're not alone. This root vegetable grows on you, especially when you realize that just one sweet potato contains 438% of your daily vitamin A. Talk about superhero strength! So don't just save sweet potatoes for Thanksgiving dinner; put them on your weekly rotation.
19. Any and all Veggies
Mom always said eat your veggies and she was 100% right. Vegetables like beets, broccoli, and spinach are low on calories and ginormous on nutrition. Pack your plate with veggies and you'll find yourself eating less and feeling fuller.
20. Water
Last but not least, and technically not a food, water is an vital part of weight loss. Ditch the sugary drinks and diet sodas and opt for the most natural, healthiest beverages on the planet: H2O. Drinking water can flush toxins from your body, curb over-eating, and skyrocket your metabolism.
What do tall of these foods  have in common? They come from the earth, not a factory. Fill your fridge with these 20 power foods and you'll feel more energized and more adept to lose weight and keep it off for good.