Don't be confused- basics don't make you basic. Simple basics are the foundation for building a versatile and functional wardrobe. Even though basics are plain, simple and no frills, they can make any outfit stand out. I think it's always a great investment to keep your eye out for quality basic staples, because they are one thing that won't go out of style or need to be purged from your closet down the road.  They can be worn throughout the day for a casual woman on the go look and dressed up during the evening to make you ready for a night out. I don't think you need to wear flashy colors to stand out either. To me, a bright white shirt or a cute LBD are attention grabbing all on their own. There are a lot of affordable options when shopping for basics; I have included some of my favorites below in case you need some new inspiration. I promise adding these items to your closet will give you so many extra choices when getting ready and take the pressure off of trying to figure out what you are going to wear every day. As they say, less is always more!
Solid Color Tee
I love throwing on a solid color tee with jeans for a casual on the go look. It is also easy to dress them up for a night out with a blazer, cardigan and statement jewelry.
Little Black Dress
I think the saying every gal should own a LBD is true! A simple black dress can come in hand in a pinch for so many different situations-date night out, a wedding, church, work and the list goes on! Pair it with pumps, sneakers or flip flops to finish off whatever vibe you are going for.
Pumps
I love heels for a special occasion. Pumps are always in style and have so many different options when searching for your perfect pair. I have also noticed that wedge pumps are making a comeback this year, which are a lot more comfortable for an all day wear!
Black Pants
How can you go wrong with a pair of black jeans, leggings or slacks? Black pants can be paired with pretty much any color top, including black! Grab yourself a few different styles that can be dressed up or down in several different ways.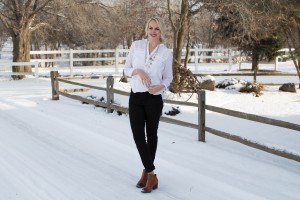 Cardigan
Cardigans are a must have staple for my closet. They are the perfect item to grab when the seasons are in transition mode and you want to make sure you will be warm enough throughout the day and evening.
Hoop Earrings
Hoop earrings will never go out of style, IMO. They come in so many different sizes, styles and colors; and can easily dress up the simplest of outfits.
Tote Bag
I think every Mom should invest in a big tote bag for herself- I'd be lost without mine! Tote bags can carry all of the things you need when running around and still make you look cute while doing it. I always lean towards a pretty camel or tan color since they look good with anything you wear!
Sole Society Faux Leather Tote
Jean Jacket
Jean jackets are something else that never seem to go out of style. Every year, I see a ton of new designs come out- a variety of colors, fades, distressing, lengths and more. They are great to pair with leggings while running errands or with a summer dress to keep warm at night.